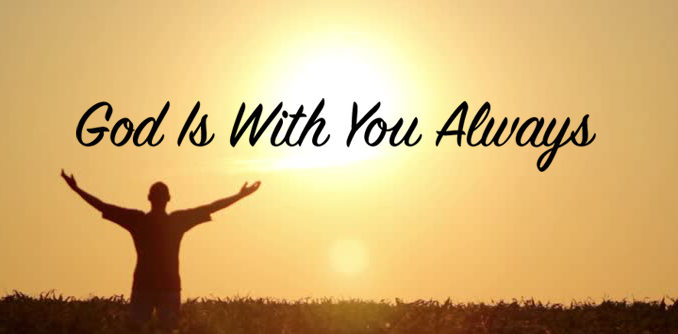 God Is With You Always
"And surely I am with you always, to the very end of the age." Matthew 28:20
If you're reading this, I hope this article encourages you to love God more than ever before. We live in a world that tells us you need to see it to believe it. I have fallen into this way thinking as well. But, we know we believe in a God that we cannot see. It is easy to forget that Jesus promised that he is with you always when you can't see him or feel him. Even the apostle Thomas wrestled with doubt. Speaking to his fellow disciples after being told Jesus resurrected, he sputtered:
"Unless I see the nail marks in his hands and put my finger where the nails were, and put my hand into his side, I will not believe." John 20:25
Thomas says this after Jesus dies. His hero, his Messiah, his Lord was now dead. He didn't want to get his hopes up or maybe he was weary of living by faith. He was let down and discouraged. So, he allowed his doubt to control his life. Interestingly, Thomas didn't start out filled with doubt. During a time of great persecution against Jesus, Lazarus died an untimely death. Jesus loved Lazarus very much but in order for Jesus to get to Lazarus he risked being killed by the Jews. This inspired Thomas, and in response he proclaims to all his brothers:
"Let us also go, that we may die with him!" John 11:16 
Thomas was ready to die for Jesus! What happened to the faithful Thomas that would die for Jesus? That would go anywhere, do anything, and drop everything even if it meant death? He got discouraged. He physically had Jesus with him, but after he died he lost faith. He had his hopes and dreams dashed. The bible says in Proverbs 13:12 that, "Hope deferred makes the heart sick." Everyone has hopes, and everyone has hopes that are deferred. If you've had your hopes deferred I want to inspire you to remember that God is with you. Even though you may not feel that way, He is. The question is, will you keep hope in God even when you don't see him? Sure, maybe you were let down but God is always with you! Maybe you lost a job, or were hurt by someone you love and you are struggling to give your heart again. As Christians, we want so much to see others saved. We begin an amazing journey with those around us who have yet to make Jesus Lord and it's powerful. Sometime they just don't make it all the way to making Jesus Lord. This can be very discouraging. But remember, when you love God with all your heart, soul, strength and mind Jesus is always with you. Put your hope in that, not in anything else. In everything you do, live with the faith that God is always with you!
Is there anyone in your life who COMPLETELY knows you? They would have to know every secret, every thought and every emotion. This would be impossible for a person. The only one who knows all about you is God. The Lord knows every hair on your head (Luke 12:7), which shows us how caring and loving our Father in Heaven truly is. If the Lord knows every hair on your head than he knows every deed you do. This shows us His mercy and grace. Why? Because we all fall short in so many ways. Nobody is perfect. That encourages my heart to remember because sometimes I compare myself to others. This is also convicting because it reminds us that God is always watching when He is with us. We can so easily forget that God is always with us in every moment. When God watches your life, what is he seeing? I pray it's a man or woman who is living out their destiny!
The Bible states that Jesus will be with you always (Matthew 28:20) to encourage us to stay faithful to God. This is especially when we are alone. A relationship with the Lord completely relies on us living like God is with us at all time, not only when we're near other people or at church. Have you been living like God is with you always? Jesus sees straight into the true heart and all he wants for us is to live with Him always (Matthew 15:1-13).
"Everything is uncovered and laid bare before the eyes of him to whom we must give account." Hebrews 4:13
We are talking about a realization that God is not closing his eyes to what we do: bad or good. There are many ways we can live our lives to show we know God is with us. I want to go over three ways you can live that show you have this conviction that God is with you always: prayer, sharing your faith, and purity.
God Hears Every Prayer
"This is the confidence we have in approaching God; that if we ask anything according to his will, he hears us." 1John 5:14
I love meeting people that are confident because it's always intriguing to find out what makes them confident. Sometimes it's how much they work out or their ability to pass a class without even trying. It's easy to lose confidence when we compare ourselves to others according to the world's standards. As disciples, confidence doesn't come from what we do but from the fact that God hears our prayers. Sometimes I can go to a place in my heart that says, "Because I did this or that God will not hear me," but it just isn't true. God hears every prayer because He is God. Period. Now, sometimes the answer to your prayer is no, but that's for another time. How comforting it is to know that our prayers reach the ears of the creator of all things. There is an element that we must understand about sin and prayer- if we are continuously rejecting God by sinning, we aren't living according to His will. So, we won't be praying according to His will at that point. But, we have a hope! We can change our lives by going back to holding to Jesus' teaching! If you've been in sin or not I encourage you to take an hour today and just pray to God. He will hear you. Remember Isaiah 59? Is His arm too short to reach or his ear too dull to hear? Absolutely not! Your voice is heard and it isn't ignored. You must pray knowing that God hears you. You must pray continually and without ceasing. Pray because you love to spend time with the One who loves to listen and this is because Jesus is with you always. Check out: John 15:7; Mark 11:24; Psalm 21:2 and Psalm 34:17.
Spreading the Gospel
"Declare His glory among the nations, His marvelous works among all peoples." Psalm 96:3
Let me get vulnerable for a second. There have been many days where I get discouraged when someone just doesn't want to become a disciple but why do I get discouraged? Is it a good thing? I have asked myself this question because my motives were questionable. If someone doesn't want to be a follower of Christ, it can sometimes take me out of the spiritual battle. Even to this day, I must pray through my heart when someone walks away from becoming a disciple of Jesus Christ. I care very much if someone makes the most important decision of their life! My heart of hearts wants everyone I see to become a Christian. But when they don't decide to make that choice and I stop sharing my faith, that's cause for concern. It is because in some way I wanted glory from them choosing to worship God. I can still go there sometimes. My overall goal in this article is to show how big of a gap life would have if God were not filling it. God fills your voids. There are some huge holes in your heart and only God can fill them. You tried everything under the sun to fill those voids and nothing did the job. Only God is with you always. See, it isn't that you're making disciples that makes you whole. What makes you whole is that God is always with you!
Imagine if someone never reached out to you because they were discouraged or hurt because someone walked away from Jesus. You'd be lost forever. Empty. But since someone took the courage to say something to you, you're here today. They probably had people persecute them and turn from becoming disciples often before they meet you. Bottom line, God sends us out to the whole world to declare His praises because we are a chosen people to do so (1Peter 2:9-10). Have you been doing what God sent you out to do or have you also gotten "discouraged"? Maybe your motives are questionable as well. We will always be taken care of by God even when we mess up. This is something worth sharing not for personal gain but for God's glory. Share the gospel with others because you know God can fill every void. Share the truth because you know God can save anyone. Do it because you love Jesus and without anyone having to remind you about it. Today I encourage you to refresh your heart and go make disciples with pure motives and intentions.
Purity is not Impossible!
"There he was transfigured before them. His face shone like the sun, and his clothes became white as the light." Matthew 17:12
I've been the guy that says I'll never be pure. And heard many people say the same thing. But we have an example we can follow here. Jesus sets us an example of what happens when someone is close to God. Literally, I believe that Jesus was so close to God that even his clothes became white- so white that they were like the sun. That's amazing! Purity isn't an accomplishment we can obtain alone. Purity is given to the people who strive to get close to God. The closer you are to God the purer you become. Have you been battling with being pure? I have a question that might help: do you do whatever it takes to be pure?
A great relationship with God is your answer. Simple I know, but look at Jesus. He spent his days and nights in prayer and fasting. Before he was taken to the cross we find Jesus PRAYING FOR THREE HOURS to get his heart right. Whenever you get tempted to be impure (physically, emotionally, mentally, spiritually) I challenge you to get up and go pray for however long it takes to "set your heart and mind on things above" (Colossians 3:1-2) Purity is a HUGE indicator that you are concerned that God is watching you. I encourage you to live a life that shows you know that GOD IS WITH YOU ALWAYS.
Here are a few practical's for purity:
1. To be pure you must have a full life (John 10:10) . Idle hands are impure hands. You should be doing God's work always, unless you have planned rest. Take a look at your schedule and fill it with doing God's will. You will be completely transformed. Make sure you have goals for the day as well. The person with a purpose for God will do what pleases the Lord. Purity pleases God. It's a standard for me personally to be in at least 3-5 bible studies a week and share my faith every day.
2. To be pure you should have people around you that will inspire you to be pure (1Cor 15:33). Your closest relationships will define your relationship with God. Why? You can't fight the fact that you're influenced, but you can choose who you are influenced by. Draw close to people that will challenge you, inspire you, and call you to be a pure man or woman of God!
3. To be pure you must desire to be pure. You will be tempted but your desire to please God needs to be more than your desire to please yourself. It's true the saying, "If you want it, you'll get it.". If you want to be pure enough, you will be pure. If you want to be right with God, you will be right with God. It takes tears, suffering, time, effort, prayer, getting in the word, late night confession, and more to be pure. You have to desire purity more than anything else especially in the moment.
If you are like me, it's probably true that you've fallen short in one or maybe all of these areas. It's not too late for you to change your heart. You can go after these things again! Get back out there and win some souls for Jesus! Get back out there and help others overcome impurity and a lack of relationship with God. You are chosen, you are holy, you are special to God!
In closing, I pray we can all get back to a true understanding that God is with us. He hears us and wants us to know that he cares for us every step of the way. Even if it doesn't seem like it or maybe you are struggling, I pray this serves as an encouraging reminder of when Jesus promised you that he is "with you always."
With Love,
Marcel Turner