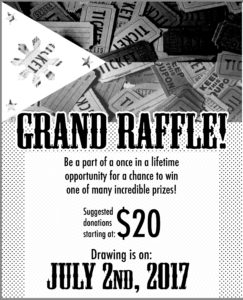 This year, from August 3 – 6, an incredible opportunity will be taking place for disciples of Jesus all around the world to take part in! The 2017 Global Leadership Conference: Victorious! The SoldOut Movement, our global family of churches around the world, is hosting this conference overseas for the first time in Manila, Philippines. The Metro Manila International Christian Church was planted in June 2015 and has become one of the fastest growing churches in the movement since that time! What an incredible opportunity it will be to meet our brothers and sisters across the world in addition to gain training and learn about the worldwide vision as we all unify to evangelize all nations in our generation! (Mark 16:15)
In efforts to help one another get there, we are holding a
Grand Raffle with amazing prizes! Anyone can win any prize and the more tickets you buy, the higher chance you will have on winning one or more prizes!
All funds will be used to pay for travel costs of those going to the Philippines for the Global Leadership Conference.
Tickets can be purchased online by going to gainesvilleicc.org and hitting the DONATE button. (Please specify that you are donating for the raffle, and include one method where you can be contacted.)
Tickets can also be purchased in person using cash, check, or money order—just ask one of our members!
Donations begin at $20 for 1 ticket OR $50 for 3 tickets. Good luck!