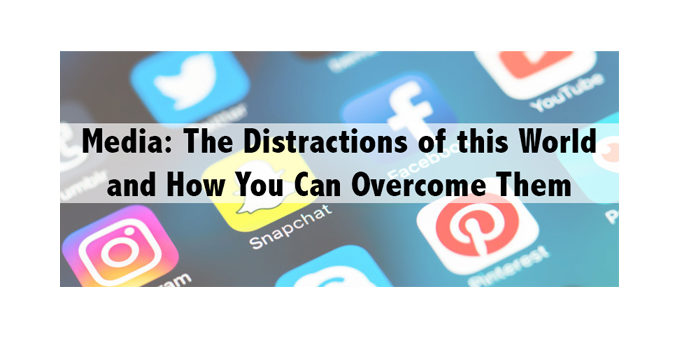 Media: The Distractions of this World and How You Can Overcome Them
"Do not conform to the pattern of this world, but be transformed by the renewing of your mind. Then you will be able to test and approve what God's will is-his good, pleasing and perfect will." Romans 12:2
As disciples in this world we must be careful. What we allow ourselves to be surrounded by literally determines the pattern of our lives. We can't fight the fact we are influenced, but we can choose what we are influenced by. The world is filled with multiple facets of influence. The music we listen to and so on. In our day to day normal routines we are influenced by advertisements, other people, money, and especially, social media. It may seem cliché by now but just look around you: How many people have their faces in their phones or laptops? How many people do you see with their headphones in? Studies have shown that social media does influence the way we think. From forming our appetite to causing major insecurities. It's also shown that peer pressure is evident throughout social media. For instance, if you like a picture it shows the people who also liked it that you liked it. The person who posted it sees you like it and so on. What happens if you don't like it? You must not like that person or at least what they stand for at the moment. I've literally been greeted by others because they saw me on social media and it was as if they knew me because of it. Now, the benefit to that is we can see each other from afar but the side effect is we can tend to completely lack any personal relationship because of social media. You ever posted something on social media and didn't get a lot of "likes" or "loves"? I have, it made me feel insecure. As of March 22nd, 2017, the average person will spend 50 minutes on Facebook alone (that doesn't include any other media outlet). That's almost 13 days of your year spent scrolling through the almost endless page of one branch of social media. As of 2017, 81% of the U.S. population have social media. Over 2 billion people worldwide are on social media. Recently, God put it on my heart to pull back from using social media and eerily enough, I almost feel more open minded and "free". What would happen if you did the same? Would you all the sudden have more time to handle your life's responsibilities? Would you be closer to God if instead of going to scroll through Facebook, you opened the bible and prayed?
"The seed falling among the thorns refers to someone who hears the word, but the worries of this life and the deceitfulness of wealth choke the word, making it unfruitful." Matthew 13:22
For many of us, these outlets can become a daily concern of life. This in turn makes us unfruitful. It can be addictive scrolling through the news feeds of your favorite social media outlet. If you are in this place where you see yourself almost "wasting" a lot of time on media. Moderate your time spent on it. Replace the time you spend in social media with working out, talking to someone over the phone, praying, or anything else productive for your life. Doing this will free up your time by 15 entire days in your year! The infinite possibilities of what you can do in 15 days is amazing. Now, this 15 days is only for Facebook. It doesn't include the time we spend on Netflix, the internet, Spotify, games, and movies. For me, I've decided to moderate my time spent on media and it has helped me draw closer to God in many ways.
"A new command I give you: love one another." John 13:34-35
Taking Distractions Away from Our Relationships with One Another
My wife and I were married December 6th, 2015! It has been an amazing journey filled with great memories that will last a lifetime. We also have a beautiful daughter, Selah Lee Turner, who was born April 19th, 2017. One of the most foundational decisions we've made is to make sure we do not use our phone at the dinner table. Every single day we have a meal together. We've had meaningful conversations and talks in those dinners that literally bonded our hearts. If we didn't have those talks without the phone present our hearts wouldn't be as close as they are. We also limit the use of our phones while in the car as much as possible. Why? Because we love one another. In your marriage, do you spend time with one another without any media in the background? I want to inspire you to spend time together every single day without any distractions if possible. Just love one another without distraction. This goes for the entire church as well. In our relationships with each other let's all put our phones, laptops, and other media devices down when we're with each other. How amazing it would be if we could all take 13 more days to love each other every year! That's over 300 hours of extra time to love one another more personally.
"Train up a child in the way he should go; Even when he is old he will not depart from it." Proverbs 22:6
Taking Distractions Away from our Families
Speaking of my daughter Selah, my wife and I got some amazing advice about how much we expose our child to "the screen". We call it "screen time". We received the advice to limit the amount of screen time we allow Selah to have throughout her childhood. As parents, we are the teachers of our children. If our babies are crying or wanting attention the first thing we do shouldn't be to hand them our phone or turn the TV on. This trains our children to turn to these items first before anything else. We must be careful not to allow our children to grow up "distracted". So, as an infant Selah gets zero minutes of screen time but 100% Mommy and Daddy time. As Selah grows older this will increase to 30 minutes a week, but only by a little and very controlled so that way she learns at a very young age that the phone or TV isn't what we turn to first for comfort or entertainment. First, we want her to have a relationship with us so as she cries or wants attention we, mommy and daddy, will be the first thing we give to our daughter, not our phone. Stop what you're doing for one second and give your attention to your child. My best memories as a child weren't when I was watching the TV screen but when I was being held and comforted by my parents. When you take time to love your child they remember that. During meals, family times, and other special moments put your phone away and unplug the TV and be completely present.
"Do not love the world" 1John 2:15
Using Social Media for God's Will
There is a great use for social media! Praise God he gives us tools to do his will. Use it solely for the purpose advancing his kingdom. Use it for proclaiming his gospel and spreading the word. Limit your use of course, don't get pulled into being like the world but use the tools God gives you. I've used Facebook to reach out to friends over the last ten years and have seen people get baptized because of it. Clear out all your social media of anything that doesn't glorify God: "showy" pictures, parties, worldly relationships, and anything else. For me, I stopped following, even deleted, anyone who caused me to stumble in the areas of lust and worldliness. After doing this, now you've purified your media for a godly purpose. Now, post every church event, every special missions, every scripture, every bible study, every baptism and every victory of Christ. You have officially transformed social media to become a tool for God's glory! it's not about the amount of "likes" you get but about your heart to share God with everyone you know. I would also encourage you to limit your media usage in general if possible. If you have multiple accounts, delete them and only have one outlet for social media. In my opinion, Instagram and Snapchat are too risky to maintain so delete them if you see it benefitting your relationship with God. There have been multiple brothers and sisters that have come to me confessing temptation and sin because of social media, might as well limit their influence by cutting them off, "And if your right hand causes you to stumble, cut it off and throw it away. It is better for you to lose one part of your body than for your whole body to go into hell." (Matthew 5:30) God can use your social media if you fully devote it to him!
"Those who cling to worthless idols turn away from God's love for them." Jonah 2:8
Taking Distractions Away from Your Relationship with God and Being Effective and Successful.
We've covered that we can literally have at least 15 days freed up a year if we limit our media use. If you think about it, sometimes we turn to those things for comfort. We can turn to music or social media when we feel overwhelmed instead of to prayer or the word. We can watch a movie or two in a row if we feel depressed. In any case, that would be turning away from God's love. Now, I'm not saying become a monk on a mountain. But, I am saying be careful to not let media become an idol. An idol replaces God in your life. So many times, we catch ourselves getting satisfaction from social media. You can't get your satisfaction from how much people like you or from any media. You need to focus on how much God loves you and let that be what satisfies you. Sure, from time to time watch a movie or listen to a song to relieve stress but in moderation if anything. In a way, I believe media can literally eat away at your effectiveness in your relationship with God. That's if it isn't being used for God's glory. This applies to having success in life in general as well. Why? Well, going back to how much time we can spend a day on media and how much time that takes up in a year. Imagine if we spent that time applying effort into our relationships with God or doing his work? Being effective takes faithful prayer, "The prayer of a righteous person is powerful and effective" (James 5:15) and if you are going to succeed, while being righteous, it's going to take God to help you. The more time you spend on media instead of doing what is needed will chip away at your relationship with God and your effectiveness. If you take out the distractions of media you can focus on what's important. You can now be "transformed by the renewing of your mind" (Romans 12:2) and take effective steps forward in your life in Christ.
Today, if you feel you can be more effective and successful take small steps toward your goals. If you want to be fruitful for God, don't worry about the result, focus on what you can do right now to get the result. For instance, if I want to be fruitful, I'm going to reach out to one person today and when I do I'll celebrate that victory. And set goals from there like share with another person that day and track my progress. Make a daily task sheet and cross off every small or great achievement you had that day and flat celebrate when you succeed! To put up goals and visions that overwhelm you and that you keep falling short in, that can cause you to turn to "idols" like media or even sin itself. That's why it's good to refrain from the influence of media as much as possible. Instead of going to social media or media itself, call a mentor or a "father in the faith" or someone you look up to that can help you in your walk with God and your effectiveness. Don't limit yourself to relationships that don't challenge you. We can so often surround ourselves with people that don't challenge us or that intimidate us because we are afraid. But, if we surround ourselves with people that are greater, smarter, and faster we can only become more like them. We were created by God to work hard, and we should work hard to be effective and successful. You may not be the greatest right now but with this mindset you will become greater than you are today. Being distracted will only stop you from achieving your goals, being effective, and having success whether great or small.
"Dear friends, now we are children of God, and what we will be has not yet been made known. But we know that when Christ appears, we shall be like him, for we shall see him as he is. 3 All who have this hope in him purify themselves, just as he is pure." 1John 3:2-3
Overall, my hope is that you can purify yourself as you become more and more like Christ. In your heart, make the decision to become more and more like Christ every day. That doesn't mean be perfect, but make progress. If there is an ineffectiveness about you and you feel like you could do more, than do it. "Therefore, since we have these promises, dear friends, let us purify ourselves from everything that contaminates body and spirit, perfecting holiness out of reverence for God." (2Corinthians 7:1) If there are things in your life that are distracting you from being effective and successful, clear yourself so you can perfect holiness. Every day we have on earth is special and we should make the most of it. You can overcome distractions in this world by holding to the scriptures and becoming more and more like Jesus every day.