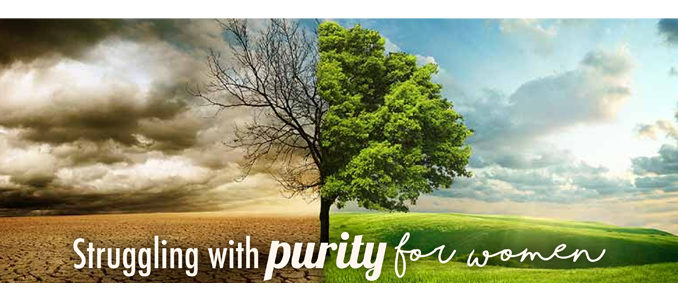 Struggling with Purity for Women
"I have kept my heart pure; I am clean and without sin." Proverbs 20:9
What does purity mean for women?
Purity is described as freedom from anything that debases, contaminates or pollutes, i.e. sexual immorality.
The Need for Purity
"Create in me a pure heart, O God, and renew a steadfast spirit within me." Psalm 51:10
For us, as women, we assume that impurity is the price in order to acquire emotional or financial security.  It is so hard to maintain purity in an ever-changing world.  Some of us were taught that sexual purity would reap us the husband or boyfriend we wanted.  Some of us, also, had the example of our parents that weighed into our choice of purity. When you are in the world of "do as I say, and not as I do", you realize that it is a whole new ball game.
From the time you reach the age of "catching a boy's eye", you are bombarded with the idea that all girls are doing the same thing they are trying to talk you into.  No, it has not changed in the least from when I was growing up. You were asked to give up your purity to belong or add to a boy's circle of friends.  You were also told that, if you were to become pregnant, he would marry you or take care of you and his child. Men lust with their eyes, where women lust after security or "things".
What some of us learn is to "marry in haste, repent in leisure".  We want to get out of a chaotic childhood, or parental control, only to find that we are in the same boat.  Whatever the reason, God is still the answer to our dilemma.
What are we to do?
"For your Maker is your husband—the Lord Almighty is his name—the Holy One of Israel is your Redeemer; he is called the God of all the earth. The Lord will call you back as if you were a wife deserted and distressed in spirit—a wife who married young, only to be rejected," says your God." Isaiah 54:6-7
God still has a plan for us!
"For I know the plans I have for you," declares the Lord, "plans to prosper you and not to harm you, plans to give you hope and a future. Then you will call on me and come and pray to me, and I will listen to you. You will seek me and find me when you seek me with all your heart. I will be found by you," declares the Lord, "and will bring you back from captivity." Jeremiah 29:11-14a
Can you get back your purity?  Not in the physical sense, but in your spiritual sense, YES!  You can come back to the person who made you, who loves you with all His heart.  Come back and enjoy living in His love and security.  Cast off the morals of this world.  Dress modestly, do not covet what others have, and live in the freedom that God has given us as His children.  Read, daily, what He desires of you.  Act as if He is your father/lover; He has already stated that He will give you the desires of your heart (Psalms 37:4).
Pray, daily, that God give you the strength to live for Him.
"Therefore, since we are surrounded by such a great cloud of witnesses, let us throw off everything that hinders and the sin that so easily entangles. And let us run with perseverance the race marked out for us, fixing our eyes on Jesus, the pioneer and perfecter of faith. For the joy set before him he endured the cross, scorning its shame, and sat down at the right hand of the throne of God. Consider him who endured such opposition from sinners, so that you will not grow weary and lose heart." Hebrews 12:1-3
Learn to date purely.  You need to really get to know the person you date.  Who knows?  He may be the person you marry.  Do not go into dating with the mindset of looking for a boyfriend or husband.  Go to have fellowship with like-minded friends, and have FUN doing the things you should have been doing in the first place.  You do not need the pressures that were put on you to "get hitched".  How about "no pressure" dating?  What is not to like about it?  I have heard sisters say that they wished they would have waited.  That is all water under the bridge.  God is giving you a second, or a third chance.  Make the most of it!
With Love,
Sherry Beck